Industrial polishing
Polishing using robots and a new in-house developed polishing process for industrial applications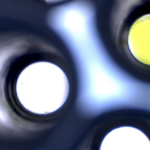 Polishing of components
If repeatability and quality are important aspects of the details that need improved surfaces, our process is a given alternative to investigate. Our process is adapted to robotic polishing and accesses of surfaces that other methods fail with. Typical applications are extrusion tools, details with channels or details with complex geometries. Thanks to Nova having an in-house developed system, we can control the process parameters for specific details and qualities. We perform the polishing in our own premises and can handle details with a size of up to 1000x1000x500 mm.
For several years, we have been polishing extrusion tools for Tarkett, which, after introducing our process as a requirement, has not had a single production stoppage related to the surfaces of the tools.
Our process has a wide range of applications, including:
Polishing of tool steel
Degradation
Removal of layers without damaging the underlying surfaces
Polishing of crystal glass
Cleaning of e.g. metal grains from additively manufactured parts
Polishing of channels and cavities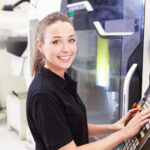 This is how it works
Water, abrasives, energy, robot and a nozzle. The polishing is done by mimicking nature's own process for polishing, erosion, and applying the very latest technology to control the process. Modern robots from ABB are combined with intelligent control of pumps and a closed circuit for the process fluids. This provides a process that is:
Sustainable and resource efficient
Repeatable and with guaranteed quality
Available and scalable
more info about our process can be found here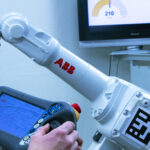 System for polishing
If you need to have the process available in your own production premises, Nova can offer solutions where systems are located with you. Our systems can be monitored remotely, which means that productivity can be maintained by minimizing unplanned downtime. The systems are made up of sub-components of the highest quality and from the most well-known suppliers and are built and developed in Sweden.